Ord boys finish second in Class C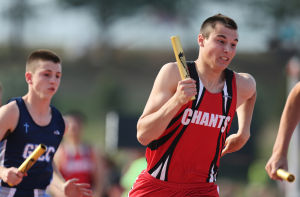 Independent/Matt Dixon
Ord's Cole Svoboda competes in the 1,600-meter relay Saturday during the state track and field championships at Burke High School in Omaha. Ord's team of Trevor Fahrenholz, Dylan Miller, Philip Langthaler and Svoboda finished second with a time of 3:32.28.
Posted: Sunday, May 19, 2013 12:09 am | Updated: 12:13 am, Sun May 19, 2013.
By Marc Zavala
OMAHA — The Ord boys track and field team hasn't brought home a team trophy of any kind since the Chants won a Class B state title in 1945.
The wait is over for Ord.
After a strong showing Friday, the Chants continued that success with strong finishes in a majority of events at the state track and field championships Saturday at Omaha Burke Stadium.
That was enough to help Ord finish second in the Class C standings, finishing with 43 points. Thayer Central won the title with 70 points.
"It's been a long time coming for the program," Chant coach Derry Trampe said. "But hopefully it's a lot less years until the next time we win another one."
Ord senior Cole Svoboda said he is excited that the Chants are bringing home a second-place finish.
"A lot of us, especially the seniors, have been working very hard for this," Svoboda said. "We as seniors have been working for this for four years, while the underclassmen really helped out as well. It feels great."
The Chants won only one event during the state meet, but recorded high finishes in enough events to push themselves up in the standings.
In Saturday events, Philip Langthaler finished second in the 800-meter run (1 minute, 58.33 seconds), while Andrew Fields came in fourth in the 1,600 (4:36.36) and the 1,600 relay team of Svoboda, Langthaler, Trevor Fahrenholz and Dylan Miller took third in the event (3:31.82).
On Friday, the 3,200 relay team of Miller, Fields, Fahrenholz and Langthaler captured the race (8:12.04), while Fields finished second in the 3,200 (9:51.60) and Clayton Lange took third in the shot put (53 feet, 11 1/2 inches). That helped Ord lead the first day with 22 points.
Trampe said he would have liked to have seen the Chants maybe do better than what they finished in some events, but he was pleased with how the Chants competed at the state meet.
"I know some of the kids are disappointed in some aspects," Trampe said. "But overall, I think they are still happy with what they did. They see their times and marks and they are happy with that.
"The 3,200 relay really set the tone for us, while Andrew and Clayton took home some medals as well Friday. That continued on into today."
But Ord was competing with heavy hearts during the state meet.
The Chants competitors, coaches and supporters there all had pink shirts during the meet in support of Trampe's wife Cathy, who is battling breast cancer.
"We're trying to support them as much as we can," Svoboda said. "Bringing home a second-place trophy I'm sure helps put a smile on her face."
Trampe said he appreciates the support from the Ord community for his wife.
"That's one of the great things about being in Ord," Trampe said. "It's a close community and they are very understanding for their concern for my wife and my family. It's been overwhelming at times to think about. This is nice for the way the kids competed not only this weekend but all season as well. I hope they really competed for themselves which is what they should do. We competed for one another this weekend and that was great to see from the kids."
Nebraska Christian's Epp shines in 800
Hans Epp knew a good start was going to get him somewhere in the 800.
The Nebraska Christian junior ran a 60-second first lap, and got better from there to win in 1:57.80.
"There's just great competition here and I knew I had to have a good start. I needed to do that to be in the hunt," Epp said. "That helped set me up for a good time. (Winning the 800) feels great even though I'm gassed."
Epp didn't take the lead until early in the second lap and held off Ord's Langthaler, who Epp beat in the Class C, District 8 Meet last week. Epp said he thought he could run under 2 minutes.
"I have been running very hard in practice the last few days," Epp said. "My goal was to run under 2 minutes. I beat my personal best by 4 seconds. That's great."
Epp also brought home a third-place finish in the 1,600 (4:36.57). His efforts helped the Eagles finish seventh with 22 points in the Class C standings.
New class, no problem for CWC 400 relay
Somehow, some way, Jordan Wietzki was going to find a way to help the Chambers-Wheeler Central 400 relay team take the Class C race.
When Wietzki got the baton, she took off as fast as she could to help the Renegrade team come back to win the race in 50.57 seconds.
Wietzki passed Kearney Catholic's Emily Laudenklos at the end, edging the Stars by .04 seconds.
"We were so far back that I didn't think I could catch her," Wietzki said. "I was going to be pretty upset if we didn't win this. Winning it the way we did was pretty amazing."
Wietzki and teammates Meagan Carr and sisters Shelby Kasselder and Kortney Kasselder helped CWC win its third consecutive 400 relay title. The Renegades won the Class D race the last two years and the same four won last year's Class D race. Wietzki said Class C was tougher than Class D.
"There's so much better competition in Class C," Wietzki said. "Kearney Catholic (who won the Class C girls title) is a great school with so many good athletes."