Ord 3,200 relay tops in Class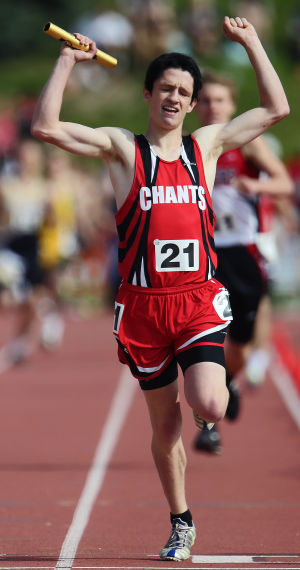 Independent/Matt Dixon
Ord's Philip Langthaler celebrates after anchoring the Chants' first place finish in the Class C 3,200-meter relay Friday during the state track and field championships at Burke High School in Omaha. Ord's Andrew Fields, Dylan Miller, Trevor Fahrenholz, along with Langthaler won the event with a time of 8:12.0
Posted: Saturday, May 18, 2013 12:10 am | Updated: 12:14 am, Sat May 18, 2013.
OMAHA — Ord's 3,200-meter relay team entered the state track meet as one of the favorites in Class C.
"We felt pretty confident that we could come here and do good things, but there are a lot of other really good teams here," junior Andrew Fields said. "We just hoped all our cards fell into place and we'd be able to finish well."
Those cards fell in place perfectly for the Chants. The team of Fields, Dylan Miller, Trevor Fahrenholz and Philip Langthaler opened the state meet by winning the 3,200 relay in a school-record time of 8 minutes, 12.04 seconds Friday at Burke Stadium.
The cards really started falling in place for the Chants when Langthaler, an exchange student from Austria, joined the program. The Chants already had a good nucleus. Langthaler was just the final piece of the puzzle.
Langthaler has just two weeks left in the U.S.A. before he goes home to Austria on May 29. He said he's enjoying his stay here in Nebraska.
"It's different, but I think it's great," Langthaler said. "We don't do sports teams in school at all like you do. So most people don't do sports at all. Austria has eight million people. Nebraska has two million, but the level here is way higher than back home."
The Chants were sitting in fifth place after the opening leg, but Fields pulled them up close to the front.
"The first leg ran a great race, but there were a lot of really, really fast people out here so I got the baton in fifth," Fields said. "Going into the first lap I was getting a little nervous, but over at the 300 mark I started passing people and passing people. By the 500 mark I was really close to first place and was able to hand off to our third guy in second place."
The Chants were in first by the time Langthaler got the baton. Langthaler had a simple strategy for his leg.
"Just run and not think," Langthaler said.
It worked out well for the Chants.
"We had a great foreign exchange student last year in Katerina Most (a Denmark native who ran at state in the 800 and 3,200 relay) and we have another great one this year," Fields said. "He's been a great friend and a great running partner to run with."
Ord coach Derry Trampe said Most ran well for the Chants, but Langthaler is at a different level.
"Philip has a little bit more of a pedigree and a little loftier goals," Trampe said. "He was a national youth champion in Austria in the 800. I don't know what the kid can run. He ran 1:59 one day and he said it felt really easy."
When Langthaler shifted into overdrive at the end of the 3,200 relay, it was all over.
"That was huge to see him open it up down the stretch," Trampe said. "We haven't had a state champion at Ord in track since 1995 when Eric Rogers won the shot put and discus for us. So it's kind of nice to get a state championship."
Fields came back to get a second-place finish in the 3,200 in a personal-best 9:51.60, just ahead of Nebraska Christian's Jahn Landrigran in third (10:01.94). Bridgeport's Cody Franklin won the event in 9:43.47.
"It's just a little bit warm to be a distance runner today," Trampe said. "Last week at districts it was drizzly and wet. That's about the ideal conditions to run in. I knew the kid from Bridgeport would be tough. His time at districts wasn't very fast, but he just ran fast enough to qualify."
The Chants also got a third-place finish from Clayton Lange in the shot put (53-5 3/4) to finish the first day in first place in the team race with 24 points.
"The kids are performing very, very well right now," Trampe said. "The two-mile relay came through and won. I felt good about the way they ran. We looked like we're fresh. We looked like we were ready to run and we competed well."
The Chants will have Langthaler in the 800 and Fields in the 1,600 on Saturday. The 1,600 relay will be a strong event for Ord as well.
"If we can keep doing what we're doing now, we'll put ourselves in a position to do something pretty nice down here and hopefully get a shot at getting a team trophy out of it," Trampe said. "If it comes down to the four-by-four, I wouldn't bet against us."
St. Paul's boys are tied for second in the team standings with 13 points. Christopher Svoboda finished second in the shot put (53-11 1/2) and Nolan Dethlefs was fourth in the triple jump (43-1 3/4) for the Wildcats